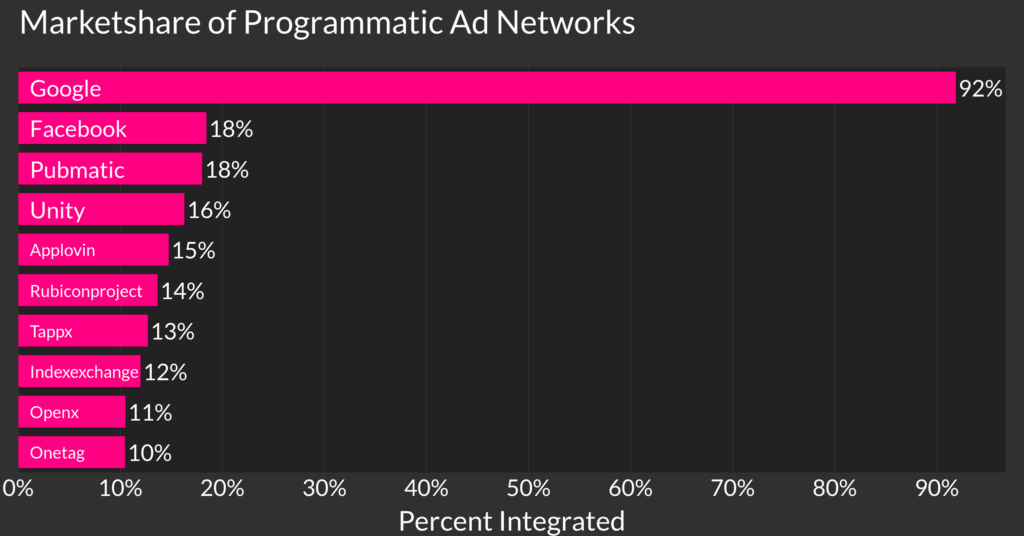 Google's market share in in-app advertising is unmistakably dominant. The data above was scraped from 100k+ Google Play Store & Apple App Store apps (with a slight emphasis on games) who use advertising for monetization. This public data is made possible by adoption of IAB's app-ads.txt standard which allows buyers and sellers to cross verify their ad buying is coming from legitimate direct sources by checking public txt files.
So, Why is Google So Dominant?
First, let's confirm that the data is somewhat accurate. This data can be correlated to similar reporting by Braedon, creator of well-known.dev, a repository of public data from app-ads.txt files (and much more). At 92% his percentage for Google lined up perfectly with the data here, despite likely slightly different app populations.
His tweets were also picked up a few weeks ago by AdExchanger, who pointed out that as you look closer at the long tail of small advertisers, the app-ads.txt files often contain only one single line: Google.com
Why is Google dominant in mobile? As the operating system for Android, they are the easiest way to integrate an advertising SDK for a small app. This means that the first ads shown, are often through Google.com and if and when the app grows, they will only ever add more competing ad networks, likely never removing the original option. Thus Google is the default advertising option on the device, with other ad networks barely getting a second thought.
Is There No Competing?
Let's zoom in a bit on the data, using only the top 5% of apps ranked by install/review count, and we see a slightly more competitive world. Here Google is still on nearly every app, but the next closest ad networks are on nearly a 1/3, a healthy increase.
This seems to indicate that once an app a big enough monetization team to manage more than one network, they can much more easily expand to other networks so as to increase their eCPMs. Adding the first ad SDK is a pain, and Google's moat around their advertising castle is that adding and managing the second SDK takes serious commitment and cost.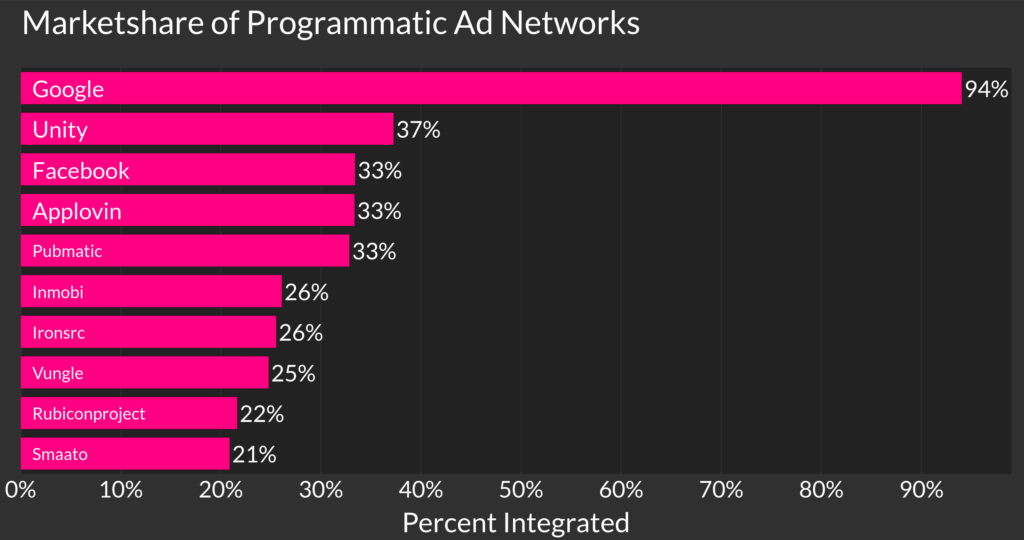 What else are we missing?
Let's start with a caveat: this is programmatic traffic, measured only by those who are hosting their app-ads.txt file. Some ad networks are not so transparent.
For example, Apple Search Ads, with it's growing stranglehold over the iOS advertising ecosystem is entirely absent in app-ads.txt. This is because Apple does not compete at all in the programmatic markets, but instead uses it's elevated role as the owner of the App Store to manage it's own ads.
Another missing piece is that the vast majority of app-ads.txt are polluted now by traffic marked as resellers. Resellers are much more competitive market, fighting over the scraps of what is left after the top networks take their pick of traffic. Unfortunately, there are so many resellers, it is quite hard to understand how app-ads.txt helps with verification at all, as I have seen many app-ads.txt files with hundreds of resellers and only 1 direct account, usually just google.com.
Closing thoughts
Despite the doom and gloom, the most important thing is that this information is publicly available. Advertising is a difficult to parse business and this helps us to have some transparency on the marketplace we all share.